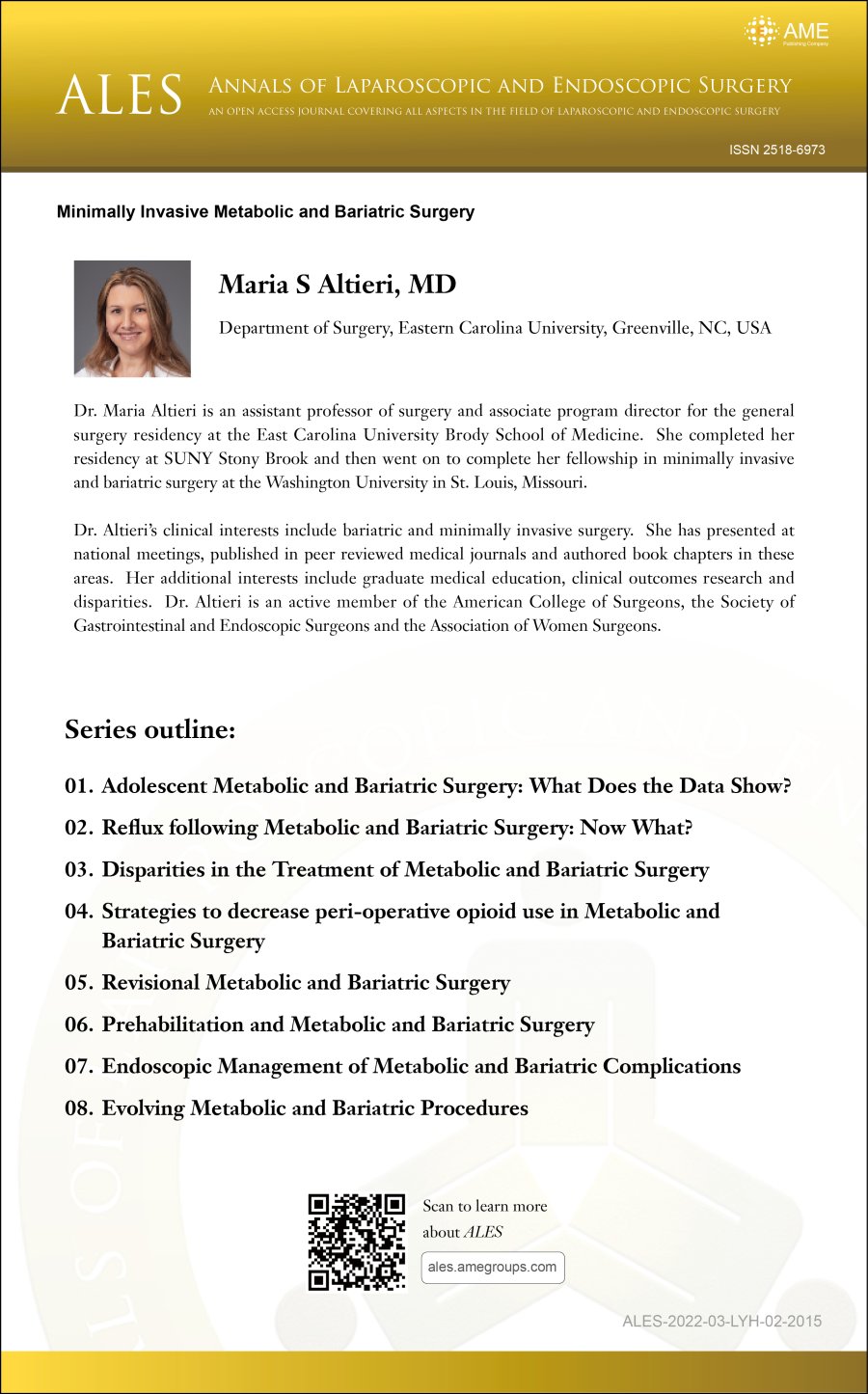 This special series on "Minimally Invasive Metabolic and Bariatric Surgery" is edited by Dr. Maria S Altieri.
Maria S Altieri, MD
Department of Surgery, Eastern Carolina University, Greenville, NC, USA
Dr. Maria Altieri is an assistant professor of surgery and associate program director for the general surgery residency at the East Carolina University Brody School of Medicine. She completed her residency at SUNY Stony Brook and then went on to complete her fellowship in minimally invasive and bariatric surgery at the Washington University in St. Louis, Missouri.
Dr. Altieri's clinical interests include bariatric and minimally invasive surgery. She has presented at national meetings, published in peer reviewed medical journals and authored book chapters in these areas. Her additional interests include graduate medical education, clinical outcomes research and disparities. Dr. Altieri is an active member of the American College of Surgeons, the Society of Gastrointestinal and Endoscopic Surgeons and the Association of Women Surgeons.
Series outline:
Adolescent Metabolic and Bariatric Surgery: What Does the Data Show?
Reflux following Metabolic and Bariatric Surgery: Now What?
Disparities in the Treatment of Metabolic and Bariatric Surgery
Strategies to decrease peri-operative opioid use in Metabolic and Bariatric Surgery
Revisional Metabolic and Bariatric Surgery
Prehabilitation and Metabolic and Bariatric Surgery
Endoscopic Management of Metabolic and Bariatric Complications
Evolving Metabolic and Bariatric Procedures
Disclosure:
The series "Minimally Invasive Metabolic and Bariatric Surgery" was commissioned by the editorial office, Annals of Laparoscopic and Endoscopic Surgery without any sponsorship or funding. Maria S Altieri is serving as the unpaid Guest Editor for the series.