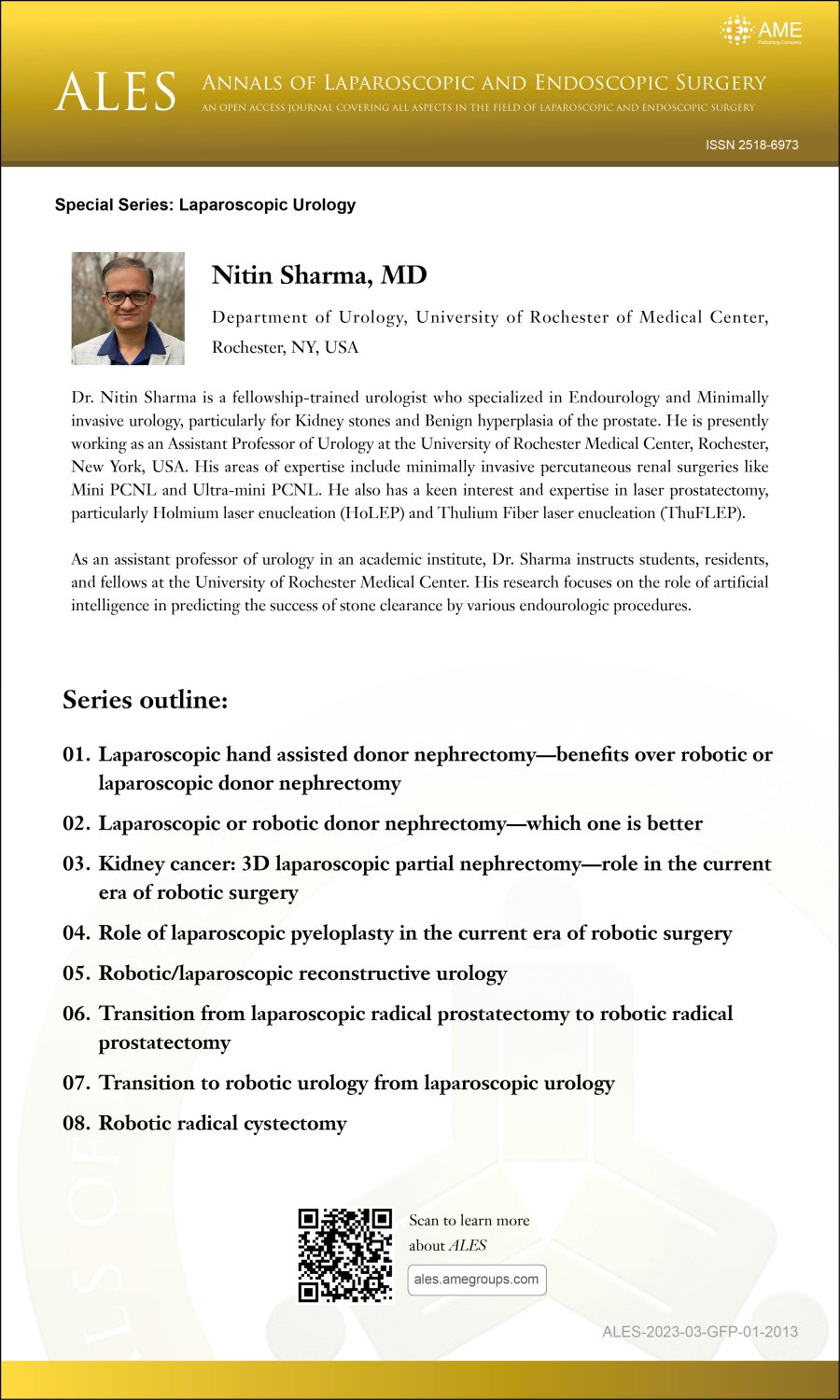 This special series on "Laparoscopic Urology" is edited by Dr. Nitin Sharma.
Nitin Sharma, MD
Department of Urology, University of Rochester of Medical Center, Rochester, NY, USA
Dr. Nitin Sharma is a fellowship-trained urologist who specialized in Endourology and Minimally invasive urology, particularly for Kidney stones and Benign hyperplasia of the prostate. He is presently working as an Assistant Professor of Urology at the University of Rochester Medical Center, Rochester, New York, USA. His areas of expertise include minimally invasive percutaneous renal surgeries like Mini PCNL and Ultra-mini PCNL. He also has a keen interest and expertise in laser prostatectomy, particularly Holmium laser enucleation (HoLEP) and Thulium Fiber laser enucleation (ThuFLEP).
As an assistant professor of urology in an academic institute, Dr. Sharma instructs students, residents, and fellows at the University of Rochester Medical Center. His research focuses on the role of artificial intelligence in predicting the success of stone clearance by various endourologic procedures.
Series outline:
Laparoscopic hand assisted donor nephrectomy - benefits over robotic or laparoscopic donor nephrectomy
Laparoscopic or robotic donor nephrectomy - which one is better
Kidney cancer: 3D laparoscopic partial nephrectomy - role in the current era of robotic surgery
Role of laparoscopic pyeloplasty in the current era of robotic surgery
Robotic/laparoscopic reconstructive urology
Transition from laparoscopic radical prostatectomy to robotic radical prostatectomy
Transition to robotic urology from laparoscopic urology
Robotic radical cystectomy
Disclosure:
The series "Laparoscopic Urology" was commissioned by the editorial office, Annals of Laparoscopic and Endoscopic Surgery without any sponsorship or funding. Nitin Sharma is serving as the unpaid Guest Editor for the series.