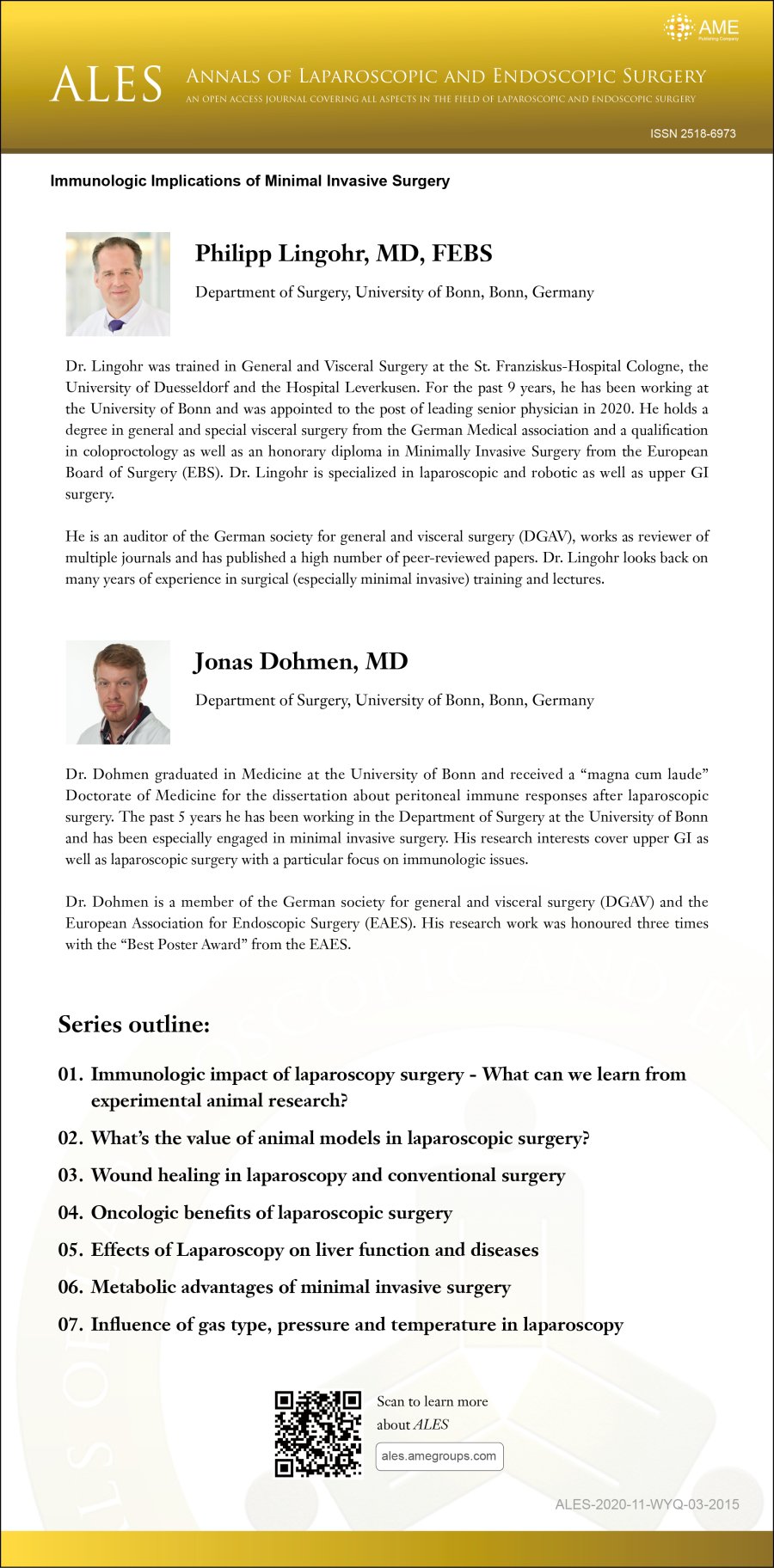 This special series on "Immunologic Implications of Minimal Invasive Surgery" is edited by Dr. Philipp Lingohr and Dr. Jonas Dohmen from University of Bonn, Bonn, Germany. This special series aims to integrate the benefits of laparoscopy detected in experimental research into clinical practice.
Dr. Lingohr was trained in General and Visceral Surgery at the St. Franziskus-Hospital Cologne, the University of Duesseldorf and the Hospital Leverkusen. For the past 9 years, he has been working at the University of Bonn and was appointed to the post of leading senior physician in 2020. He holds a degree in general and special visceral surgery from the German Medical association and a qualification in coloproctology as well as an honorary diploma in Minimally Invasive Surgery from the European Board of Surgery (EBS). Dr. Lingohr is specialized in laparoscopic and robotic as well as upper GI surgery. Dr. Lingohr looks back on many years of experience in surgical (especially minimal invasive) training and lectures.
Dr. Dohmen graduated in Medicine at the University of Bonn and received a "magna cum laude" Doctorate of Medicine for the dissertation about peritoneal immune responses after laparoscopic surgery. The past 5 years he has been working in the Department of Surgery at the University of Bonn and has been especially engaged in minimal invasive surgery. His research interests cover upper GI as well as laparoscopic surgery with a particular focus on immunologic issues. Dr. Dohmen is a member of the German society for general and visceral surgery (DGAV) and the European Association for Endoscopic Surgery (EAES). His research work was honoured three times with the "Best Poster Award" from the EAES.
Series outline:
Immunologic impact of laparoscopy surgery - What can we learn from experimental animal research?
What's the value of animal models in laparoscopic surgery?
Wound healing in laparoscopy and conventional surgery
Oncologic benefits of laparoscopic surgery
Effects of Laparoscopy on liver function and diseases
Metabolic advantages of minimal invasive surgery
Influence of gas type, pressure and temperature in laparoscopy
Disclosure:
The series "Immunologic Implications of Minimal Invasive Surgery" was commissioned by the editorial office, Annals of Laparoscopic and Endoscopic Surgery without any sponsorship or funding. Philipp Lingohr and Jonas Dohmen are serving as the unpaid Guest Editors for the series.