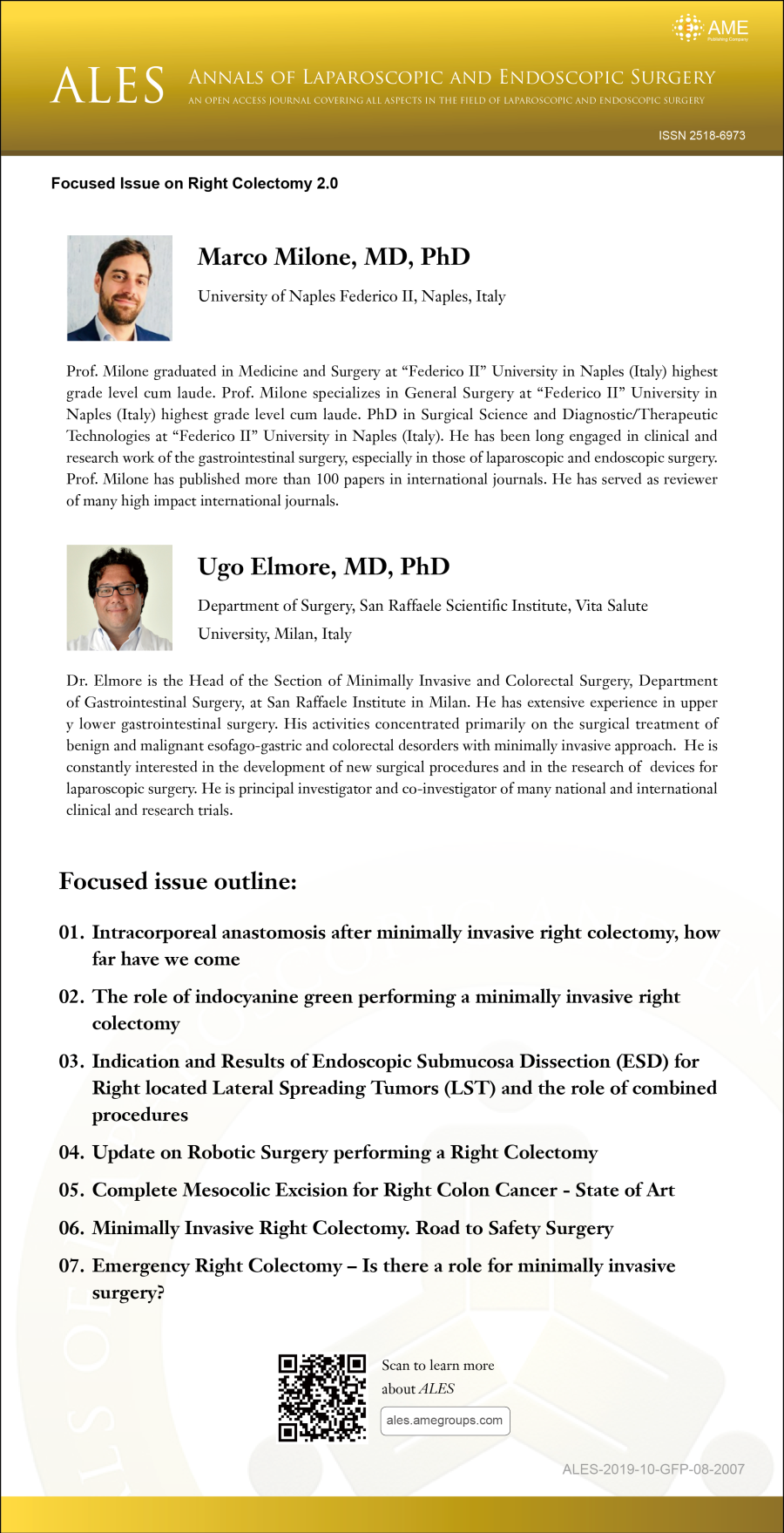 This focused issue on "Right Colectomy 2.0" is edited by Dr. Marco Milone from University of Naples Federico II, Naples, Italy, and Dr. Ugo Elmore from Department of Surgery, San Raffaele Scientific Institute, Vita Salute University, Milan, Italy.

Prof. Milone graduated in Medicine and Surgery at "Federico II" University in Naples (Italy) highest grade level cum laude. Prof. Milone specializes in General Surgery at "Federico II" University in Naples (Italy) highest grade level cum laude. PhD in Surgical Science and Diagnostic/Therapeutic Technologies at "Federico II" University in Naples (Italy). He has been long engaged in clinical and research work of the gastrointestinal surgery, especially in those of laparoscopic and endoscopic surgery. Prof. Milone has published more than 100 papers in international journals. He has served as reviewer of many high impact international journals.
Dr. Elmore is the Head of the Section of Minimally Invasive and Colorectal Surgery, Department of Gastrointestinal Surgery, at San Raffaele Institute in Milan. He has extensive experience in upper y lower gastrointestinal surgery. His activities concentrated primarily on the surgical treatment of benign and malignant esofago-gastric and colorectal desorders with minimally invasive approach. He is constantly interested in the development of new surgical procedures and in the research of devices for laparoscopic surgery. He is principal investigator and co-investigator of many national and international clinical and research trials.

Focused issue outline:

Intracorporeal anastomosis after minimally invasive right colectomy, how far have we come
The role of indocyanine green performing a minimally invasive right colectomy
Indication and Results of Endoscopic Submucosa Dissection (ESD) for Right located Lateral Spreading Tumors (LST) and the role of combined procedures
Update on Robotic Surgery performing a Right Colectomy
Complete Mesocolic Excision for Right Colon Cancer - State of Art
Minimally Invasive Right Colectomy. Road to Safety Surgery
Emergency Right Colectomy – Is there a role for minimally invasive surgery?