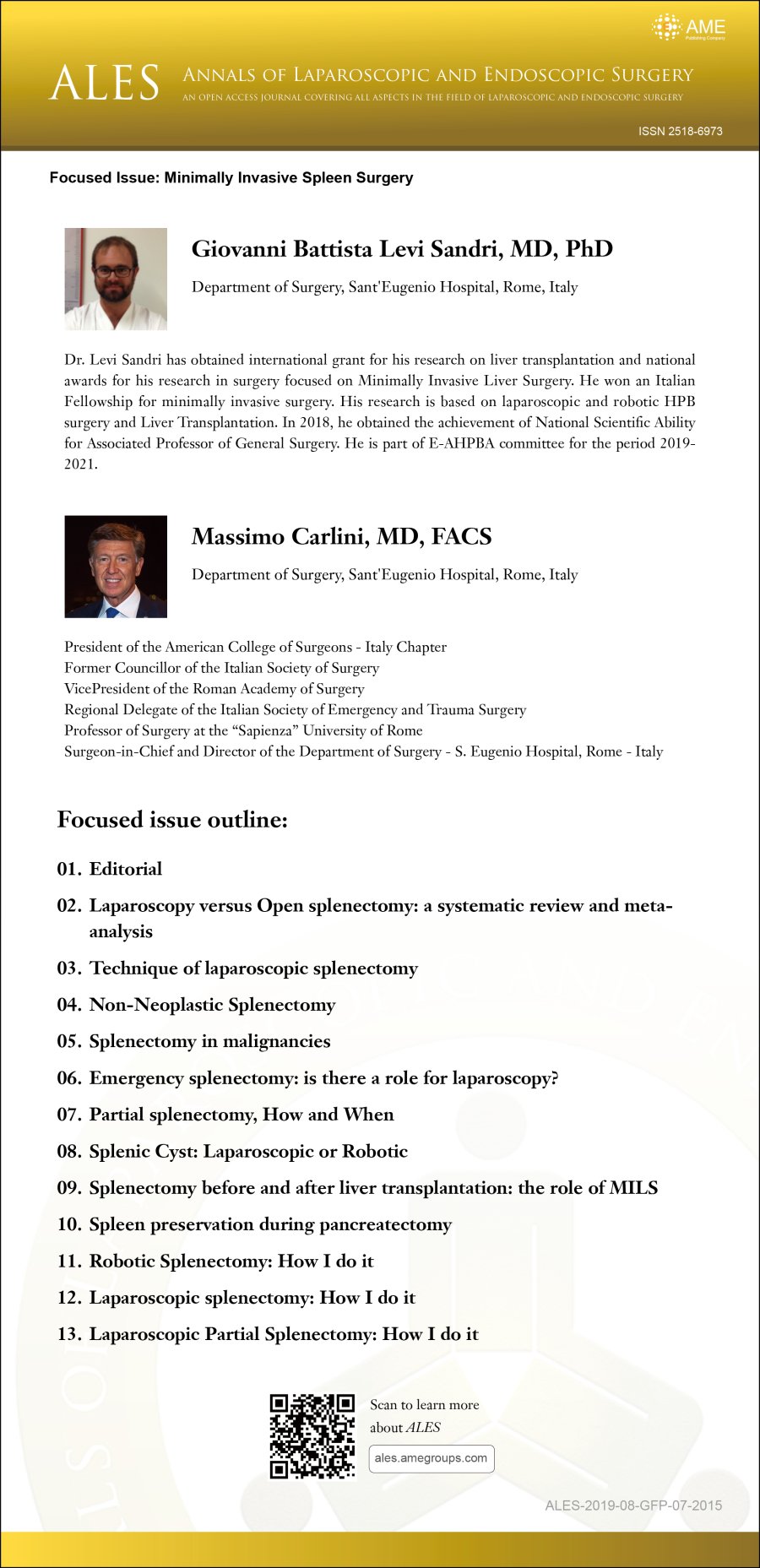 This focused issue on "Minimally Invasive Spleen Surgery" is edited by Dr. Giovanni Battista Levi Sandri and Dr. Massimo Carlini from Department of Surgery, Sant'Eugenio Hospital, Rome, Italy.
Dr. Levi Sandri has obtained international grant for his research on liver transplantation and national awards for his research in surgery focused on Minimally Invasive Liver Surgery. He won an Italian Fellowship for minimally invasive surgery. His research is based on laparoscopic and robotic HPB surgery and Liver Transplantation. In 2018, he obtained the achievement of National Scientific Ability for Associated Professor of General Surgery. He is part of E-AHPBA committee for the period 2019-2021.
Dr. Massimo Carlini is President of the American College of Surgeons - Italy ChapterFormer Councillor of the Italian Society of Surgery, VicePresident of the Roman Academy of Surgery, Regional Delegate of the Italian Society of Emergency and Trauma Surgery, Professor of Surgery at the "Sapienza" University of Rome, and Surgeon-in-Chief and Director of the Department of Surgery - S. Eugenio Hospital, Rome - Italy.
Focused issue outline:
Editorial
Laparoscopy versus Open splenectomy: a systematic review and meta-analysis
Technique of laparoscopic splenectomy
Non-Neoplastic Splenectomy
Splenectomy in malignancies
Emergency splenectomy: is there a role for laparoscopy?
Partial splenectomy, How and When
Splenic Cyst: Laparoscopic or Robotic
Splenectomy before and after liver transplantation: the role of MILS
Spleen preservation during pancreatectomy
Robotic Splenectomy: How I do it
Laparoscopic splenectomy: How I do it
Laparoscopic Partial Splenectomy: How I do it