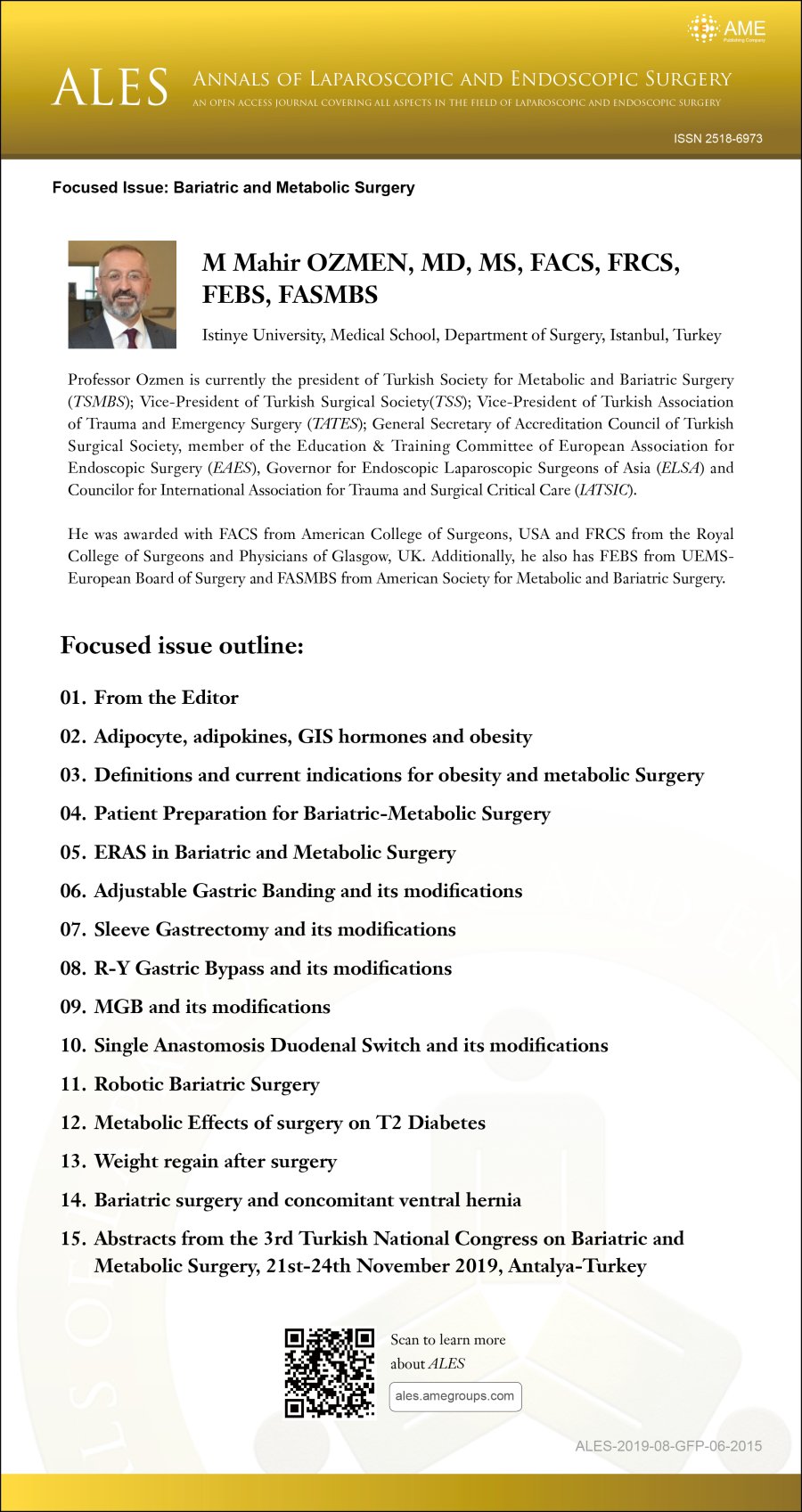 This focused issue on "Bariatric and Metabolic Surgery" is edited by Dr. M Mahir OZMEN, Istinye University, Medical School, Department of Surgery, Istanbul, Turkey.
Professor Ozmen is currently the president of Turkish Society for Metabolic and Bariatric Surgery (TSMBS); Vice-President of Turkish Surgical Society(TSS); Vice-President of Turkish Association of Trauma and Emergency Surgery (TATES); General Secretary of Accreditation Council of Turkish Surgical Society, member of the Education & Training Committee of European Association for Endoscopic Surgery (EAES), Governor for Endoscopic Laparoscopic Surgeons of Asia (ELSA) and Councilor for International Association for Trauma and Surgical Critical Care (IATSIC).
He was awarded with FACS from American College of Surgeons, USA and FRCS from the Royal College of Surgeons and Physicians of Glasgow, UK. Additionally, he also has FEBS from UEMS-European Board of Surgery and FASMBS from American Society for Metabolic and Bariatric Surgery.

Focused issue outline:

From the Editor
Adipocyte, adipokines, GIS hormones and obesity
Definitions and current indications for obesity and metabolic Surgery
Patient Preparation for Bariatric-Metabolic Surgery
ERAS in Bariatric and Metabolic Surgery
Adjustable Gastric Banding and its modifications
Sleeve Gastrectomy and its modifications
R-Y Gastric Bypass and its modifications
MGB and its modifications
Single Anastomosis Duodenal Switch and its modifications
Robotic Bariatric Surgery
Metabolic Effects of surgery on T2 Diabetes
Weight regain after surgery
Bariatric surgery and concomitant ventral hernia
Abstracts from the 3rd Turkish National Congress on Bariatric and Metabolic Surgery, 21st-24th November 2019, Antalya-Turkey
Disclosure:
The series "Bariatric and Metabolic Surgery" was commissioned by the editorial office, Annals of Laparoscopic and Endoscopic Surgery without any sponsorship or funding. M Mahir OZMEN is serving as the unpaid Guest Editor for the series.